Timeline of Tempelhof Airport
The specific site of this project will be Tempelhof. It is a site located in Western Berlin, but very close to the city center. There are several bus routes and train stops close to the site which gives it easy access for citizens of Berlin. It is also the site of a regularly visited park, meaning that there is already ample foot traffic into and out of the site. Tempelhof has a lot of history behind the building. It was first built as an airport before World War II, but much of the existing building was built by the Nazi's during Hitler's reign. The building was never finished, which makes some parts of the building ruiness while other parts are fully realized. It was used to build and house aircrafts during World War II until it was captured and given to the United States as part of Western Berlin during the Cold War. It was the site of the Berlin Airlift and was used by the US for training and storage purposes until 1993 when it was given back to the city of Berlin. The building continued to be used as an airport until 2008 and in 2010 the tar mat was converted into a public park which it is still used today. Today there are several projects and portions of the park that are sectioned off for various activities such as skate boarding, an off-leash area for dogs, and a grazing area where lawn maintenance through grazing is being tested. The building is currently being used for several different functions which makes it easy to transition it into a building that can employ paradoxical maladaptive design. The front portion of the building is being used to house part of the police department, a kindergarten, and a dance school. The hanger portion of the airport is currently being used as an emergency refugee camp for about 500-600 refugees.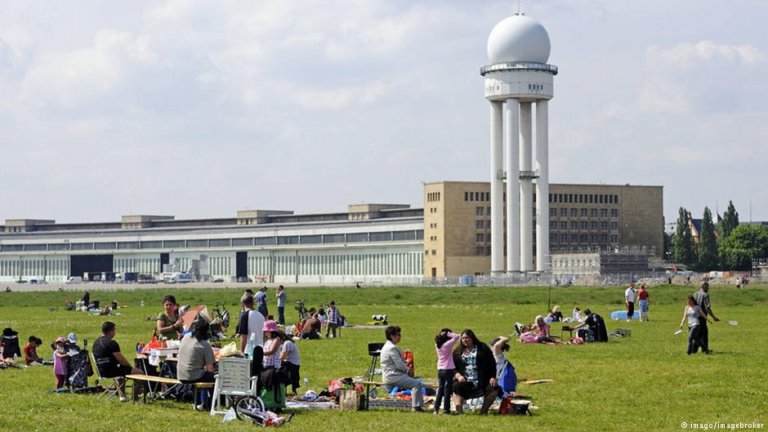 Tempelhof Field
Original Airport Map (1931)
Refugee Camp in Northern Hangar
Attached to the refugee camp is a café which both refugees and public can use, and which also houses a space where the citizens of Berlin can sign up to help teach the refugees German. Since the public and the refugees are already starting to mingle through this café space, the new proposed program will include the same ideas.