Design Strategy 1

Kinetic Illuminated Facade Study
A kinetic exterior facade that would illuminate by changing of color. By which there would be aluminum panels that move in and out of the system. I placed center spheres between each panel that would rotate with dim lighting within, casting shadows throughout each panel depending on the protrusion of the panel. All ran by an AI system.
This system I was intending to implement onto the exterior of the building as a wind element experiment however this effect I feel would be of better view from the inside as a wall panel however instead of wind maneuvering them it would be mechanical through the energy that the building collects through passive design.
Design Process
Integrating this design with of the abstract panel created as if used with a camera sensor where it is activated when people are at play or in front of these panel walls they illuminate and transform when passed in front of and one can also touch the cylindrical balls within as they glow as if they were a glowing orb.
Design Strategy 2
Kinetic Bioluminescent Exterior Structure Study
This was a study of a structure built of ETFE material skin lining filled with salt water and Plankton mixture. where when the wind blows the ETFE then the reaction of the fluid within will agitate the plankton and cause the plankton to produce bioluminescence and the structure would move in a slight pumping and wave motion.
This Study I am interested more and am going to implement into the exterior design for structure integration with a thin kinetic steel framing that is connected to the thin ETFE membrane where it can be completely sealed to fill with water and move with the wind. However, expand this movement slightly more to get a more dramatic effect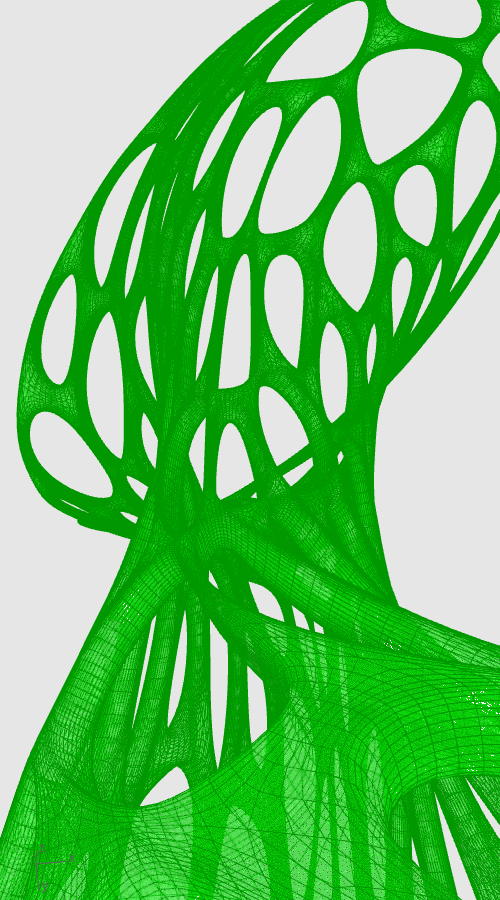 Design Process
Design Strategy 3
Interior Cooridor Circulation Study Collage
This is an Idea of a virtual throughway corridor experience, where you experience your walk through the virtual world without a head set where you see holographic images and projections through Lidar. A 360-walkway tube where you can see others using the VR and a holographic LIDAR projection of their world within the VR.
In the VR world not everyone likes to use VR but loves to see the spectacular of watching others on VR. Through these spaces or transitional spaces to be exact. one can walk through watch others playing in the VR realm. However, with the new technology of LIDAR a new possibility is available through holographic images. One can play using the VR and at the same time another can see through glass walls or windows the game where they are in as an actual movie. So, this aspect would unite both Gaming and cinema. Either you can be the star in the movie, or you can be the ones just watching the movie. One thing also different. It will not always be the same ending depending on the gamer's strategies and decisions within the game.
Design Strategy 4

Water Cinema Collage Study
Here I experimented with the idea of an open Cinema concept to help with community involvement and interaction in movie watching on the lake in the park. Bringing a different experience that is not already in Los Angeles. The experience of watching a free movie with the family or friends on a weekend on the lake. Either on a boat, floatie or along the back hill across of the lakebed.
With the world now with masks and social distancing. There are a lot of people who want to get out and have fun outside and not be within a building. so, this option would help in bringing the community out to relax. watch a flashback movie. Where two screens would be provided as floaties and can be moved along lake and hinged for multiple shows if wanted.
Implementation Process