MULTITUDE
What are the "glasses" of architecture?
How does architecture change in a world where people have always lacked light perception?

This thesis shows how much of our existing architecture functions as an adaptation for abled people, questioning normative architectural practices.
< BACK TO DINNER!
A multi-sensory entrance experience. How do you design a facade that doesn't cater to vision?
APPROACH
This thesis project is a multi-housing project set in a world where people cannot see.
1. Removing a key sense dramatically alters how people percieve and interact with the world - and in turn their umwelt.

2. It critiques normative design by redefining the human 'normal' to explore how much our existing built environment is already an adaptation to the world.
3. Recognizing the idea of multitude acknolwedges the differences between individuals while still allowing for community and togetherness.
"The Umwelt suggests space may be understood as a reflexively produced and immanent condition of subjective experience."

- Michael Hensel, Space Reader

The process of architectural design, especially in the United States, has had a history of failure in accommodating people in marginalized demographics. This includes people of certain ethnicities, immigrants, or those with physical or mental disabilities.

In architecture, finding ways to prioritize these demographics in design is a means of resisting the strategies imposed on people by hedgemonic societal structures. Visual disability presents an incredible challenge to navigating the built environment - both because design is heavily oriented around the ability to see, and also because society is progressing towards a future that is increasingly digital.


There are six main architectural strategies outlined below that I used to make a space navigable without visual cues. Bright colors and high contrast help people who are legally blind as well. These show up throughout the body of work below.


DOMESTICITY

Domestic space is one of the places where people have the most ability to establish and recognize their agency. The changes people make to their homes reflect their personality, lifestyle, and most importantly, needs.
An early illustration exploring the relationship of domestic space to individuality and personhood.
Vellum project- a lamp that explicitly shows the effect of individuals on their environment.
APARTMENT UNIT

This apartment unit and the following work are all attempting to show a non-visually oriented space. Some level of contrast, lighting, and color was used because that is helpful for those who are legally blind, who make up the majority of the blind population in the United States.
Axon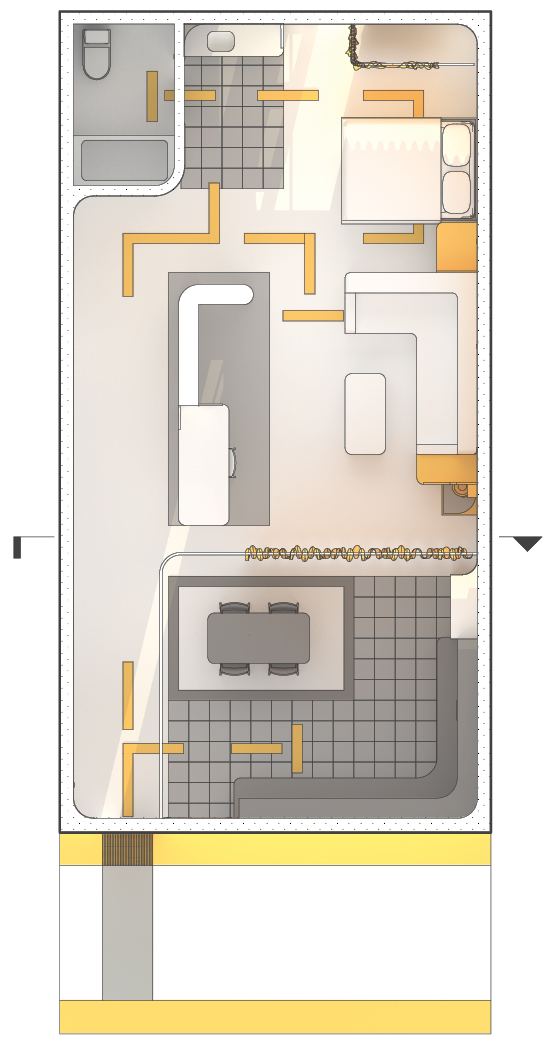 Details and Plan
Hallway